Reliant commissioned Tom Karen of Ogle Design to design a fun car.
Total Made:
2268
Preston:
1970-1971
Tamworth:
1971-1974
Models Made
Model 700:
The basic 'Bare Bug' for fresh air fiends
Fixed canopy with no side screens or lower side panels, crossply tyres.
Model 700e:
Same as the 'Bare Bug'
but it had an opening canopy, side screens with lower side panels, sun visor, interior light,
heater/demister and a number of styling refinements.
Model 700es:
Same as the 700e
but it had a high-compression engine, decathlon tyres (D1 alloys), wing mirrors, mud flaps and special extra interior
like headrests, roof lining, extra side/center supports and a F1 type steering wheel.
Model 750es:
Introduced 1973
Same as the 700es
but it had a higher capacity engine.
All Bugs sold to the public were coloured Tangerine.
A few White (4) and Lime Green (6) Bugs were sold to companies.
Spare wheel and seat belts were optional extras on all models.
Dimensions and weight
Wheelbase:
6' 5" (1956 mm)
Length:
9' 2" (2794 mm)
Width:
4' 7" (1397 mm)
Height Canopy Closed:
4' 2" (1270 mm)
Height Canopy Open:
6' 11" (2108 mm)
Kerb Weight:
864 lb (392 kg)
Tyres:
(Front) 145 80 R10 (Rear D1 style) 165 70 R10 (Rear Crossply style) 520-10
How many left?
No one actually knows! But if we say about half of those that were made are still around somewhere, even if it is only in shell form, I dont think we would be far out. This site alone has records of over 900 known bugs, with more than 500 different bugs having a photo here. Of course many that we know about may no longer be around, but for every one here that may have met its maker, there could be two or three tucked away that we are totally unaware of, every year a few more come out of the woodwork.
The Bug Club would estimate that there are between 150 and 200 (World wide) still road legal, with a further 700-900 stuck in a garage, barn, back garden or field waiting to be restored or rescued.
Since the Reliant production stopped?
A number of reproduction Bugs have been made over the last few decades, some from self made moulds, however an original mould was purchased and re-used most noteably in the early 1990's by WMC (Webster Motor Company) who went on to produce a number of (known as) Webster Bugs. These came in kit form, canopied or convertable style, 3 or 4 wheeled versions. Ready made Webster Bugs were also available.
Some owners have created a 4 wheeled bug themselves by replacing the steering aframe with a mini subframe and adding front wheel arches.

Nowadays many owners upgrade their Bond Bug by replacing their engine with a Reliant 850cc. Other engines have also been put into a Bug, some have had a 1000cc Motor Bike engine squeezed in, one has a mini engine in the rear boot space, the stretched (aka Millenium Bug) has a Rover 1399cc engine and a few have even been converted to electric power, but NON that we know of has ever had an Hillman Imp engine. Of course one of the most noticable changes made to many bugs is the variation of their resprayed colours, in saying that tangerine is still the most popular.
Tom Karen
Designer of the Bond Bug
Honorary Life Member of the Bug Club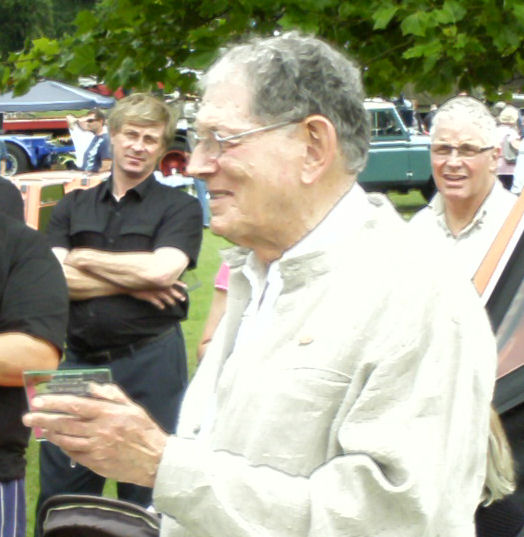 Also had a hand in the designing of the Kiddiecraft toy 'Marble Run', the 'Raleigh Chopper Bike' plus two more Reliant cars the 'Scimitar and Robin'
to name but a few.